Good Luck to the Boys C-squad Basketball team as they travel to Sweetwater Elementary in Devils Lake today! The players will ride to Binford on the practice bus right after school and will depart from Binford around 5:00pm for a 7:00pm tipoff!

Bismarck State College is offering training that will prepare participants for entry-level employment in the oil and gas industry. See the attachment for details -
https://adobe.ly/3RoEeFD

North Dakota Dollars for Scholars-New EducateND Scholarship The EducateND Scholarship is available to college students who: • Graduated from a North Dakota high school or were home-educated in North Dakota. • Are pursuing an education degree. • Have at least a 2.75 cumulative GPA. • Will be a junior, senior, or graduate student during the 2023-24 school year. Qualified candidates should apply January 1 to April 1, 2023, for this new $2,000 scholarships. To apply, students should go to northdakota.dollarsforscholars.org. • Click Apply for North Dakota Scholarships and follow the How to Apply steps outlined on the page. • Verify eligibility under the My Scholarships tab to match with the EducateND Scholarship • If a student has already completed their ND Dollars for Scholars application for the year, they can go in to update it with the EducateND Scholarship. If they have not applied for other ND Dollars for Scholarships, they may also include those at this time.

Tomorrow's 01/30 GBB contest vs BCN @ Binford has been updated to one single, Varsity game starting @ 6:00pm. Tomorrow will be parents/senior night.

GCC School & Buses will be 2 hours late on Friday 1/27. No breakfast will be served.

The JV, V Girls Basketball Games at Hope and the 7,8,JV,V Boys Basketball Games at GCC scheduled for tonight, Thursday, January 26th, are being POSTPONED. There will be NO BASKETBALL CONTESTS OR PRACTICES after school today.

HS GBB Update: Due to potential impending weather our GBB game times @ Page have been moved up. JV will start at 5:30pm with Varsity to follow. Leave times: MHS 3:30 & GCC 4:00

Basketball Updates: -01/27/23 JH BBB Practice @ GCC Blue; -01/28/23 BBB @ Edgeley - C squad has been canceled - JV will start @ 2:30pm; -01/31/23 HS GBB Location update - JV/V games are at Kulm starting at 6pm;

High School seniors and current college students interested in or pursuing a degree in agricultural/natural resources management/environmental or related studies or a related field in a two-year or four-year program in North Dakota. There are two $100.00 scholarships awarded. Applications and essays must be mailed by February 24, 2023.  Please see attached documents and application at
https://acrobat.adobe.com/link/track?uri=urn:aaid:scds:US:ba14acda-1027-32b3-aaa9-e86b071ecffe


The GBB contests on Saturday, 01/21, @ Page are being postponed. Rescheduled date is TBD.

The 2023 Reuben Guenthner Scholarship (Career & Technical Education) Visit
www.cte.nd.gov/sites/www/files/documents/Students/GuenthnerScholarship.pdf
for more information and eligibility requirements. Application Deadline: April 1, 2023 Award amount: $500 Eligibility The applicant must meet all the following requirements: • Be a graduating senior from a North Dakota high school in 2023. • Have completed one or more career and technical education courses between grades 9 and 12; (Career and Technical Education courses may be in any of the following programs: Agriculture Education; Business Education; Family and Consumer Sciences; Information Technology; Marketing Education; Technology and Engineering Education; or any of the programs in Trade, Industry, Technical and Health Education). • Enroll in a two-year North Dakota public, postsecondary institution. • Enroll as a full-time student in a career and technical education program of two years or less.

The Boys C-squad basketball games for tonight, Monday, January 16th have been postponed due to the road conditions.

GIRLS & BOYS BASKETBALL PRACTICE AND GAME UPDATES 1/12/23 C BBB C Squad BBB players using school-issued transportation to the game in Binford will depart from GCC on the practice bus at 3:05pm today, Thursday, January 12th. JH BBB UPDATES - -JH BBB Practice on Friday, January 13th, has been moved to Glenfield. -Jan 23rd - JH BBB at Central Valley vs HCV at 4:30pm JH GBB UPDATES: -There is no JH GBB practice tomorrow, Friday, January 13th. -Jan 20th - JH GBB at Larimore at 4:00pm (rescheduled from Jan 23rd) -Jan 23rd - JH GBB at Central Valley vs HCV at 4:30pm -Jan 27th - JH GBB at Finley vs MPCG at 4:00pm HS GBB Update: -Jan 23rd - The JH game at Larimore has been rescheduled. JV will begin at 6:00pm

GCC Baseball Parent Organizational Meeting - January 17th! See flyer for more details.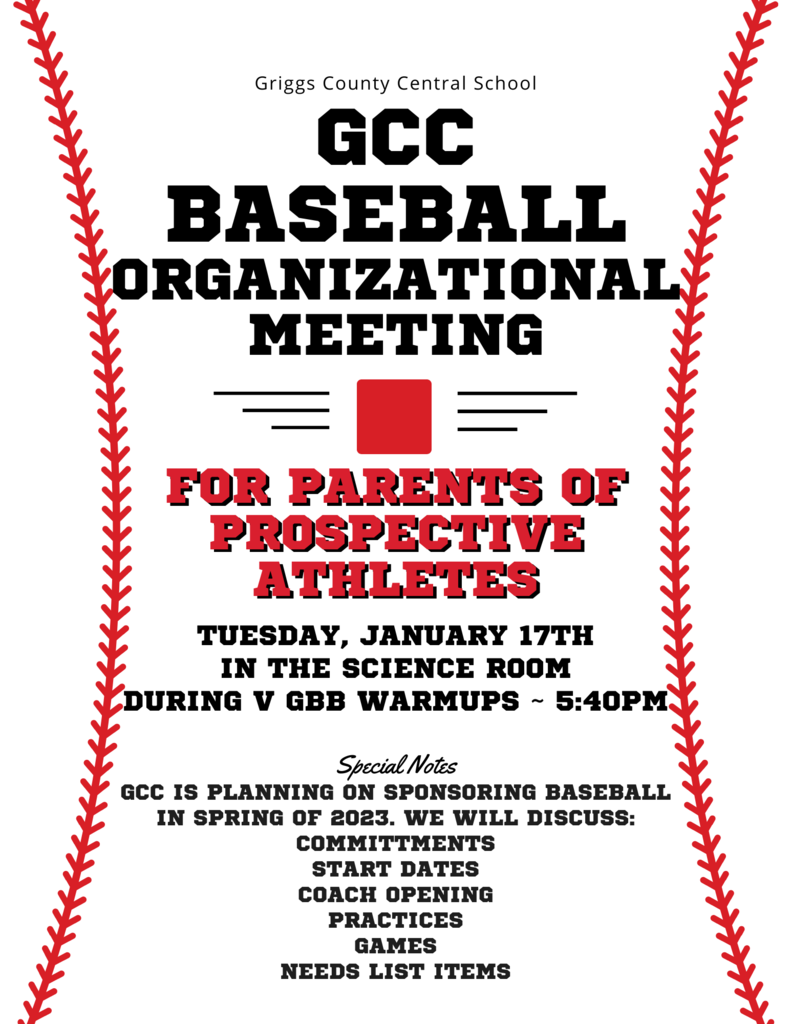 $25,000 COLLEGE SCHOLARSHIPS FOR HIGH SCHOOL JUNIORS In 2023, the Association will award 105 National Scholarships at $25,000 each, and more than 500 State Scholarships at $10,000 each. The deadline to submit a completed application is March 15th, 2023. To be eligible to apply for a Horatio Alger National or State Scholarship, applicants must meet the following criteria: • Be enrolled full time as a high school junior in the United States • Exhibit a strong commitment to pursue and complete a bachelor's degree at an accredited non-profit public or private institution in the United States (students may start their studies at a two-year institution and then transfer to a four-year institution) • Demonstrate critical financial need ($55,000 or lower adjusted gross family income is required) • Be involved in co-curricular and community service activities • Display integrity and perseverance in overcoming adversity • Maintain a minimum grade point average (GPA) of 2.0; and • Be a United States citizen The undergraduate application is available from December 1, 2022 – March 15, 2023. Apply:
https://app.smarterselect.com/programs/85190-Horatio-Alger-Association

Each spring, the North Dakota League of Cities sponsors a statewide If I Were Mayor essay contest for third and seventh grade students. The contest encourages young people to think about public service and future community leadership. Essays must address why the student feels their community is great and what they would do to improve their city if they were mayor. If I Were Mayor essay contest winners will be announced in conjunction with City Government Week, April 3-7, 2023, will receive a $150 cash prize and have their essays featured in the League's publication, CITYScan. For specifics about the rules and process for submitting essays, visit
www.ndlc.org/161/If-I-Were-Mayor-Essay-Contest
or contact Carissa at 701-223-3518 or
carissa@ndlc.org
.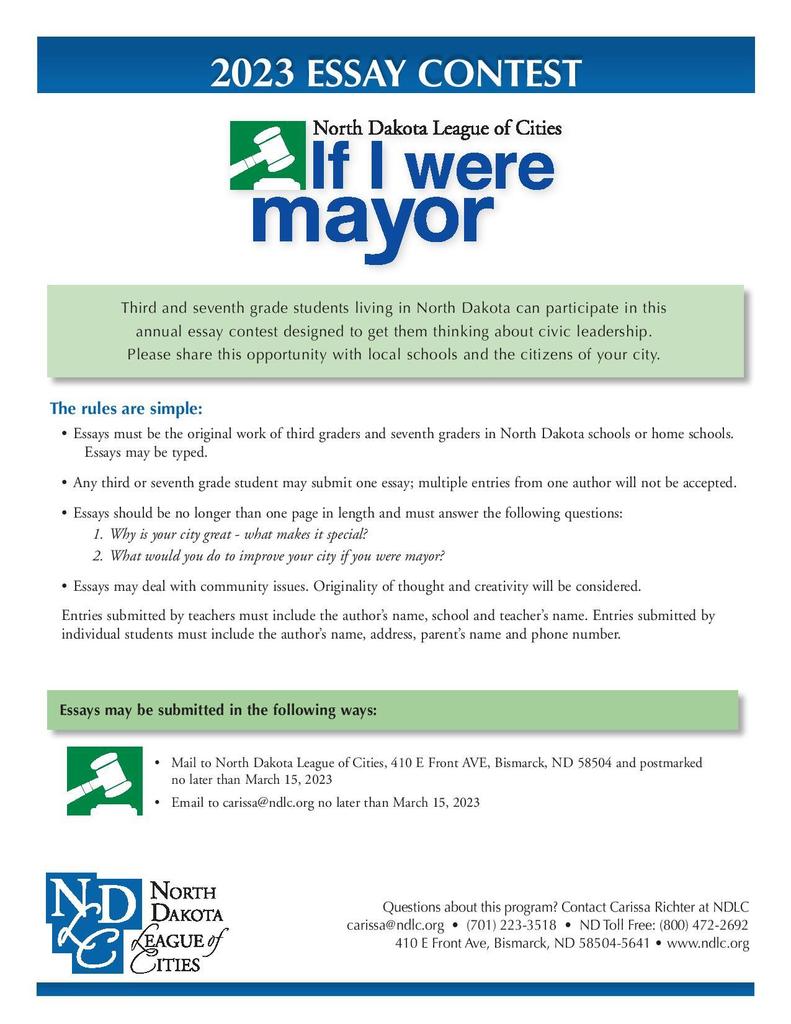 Our Junior Titans (students in grades 3-6) interested in basketball will have the opportunity to play at half times of upcoming games! See attached flyer for details!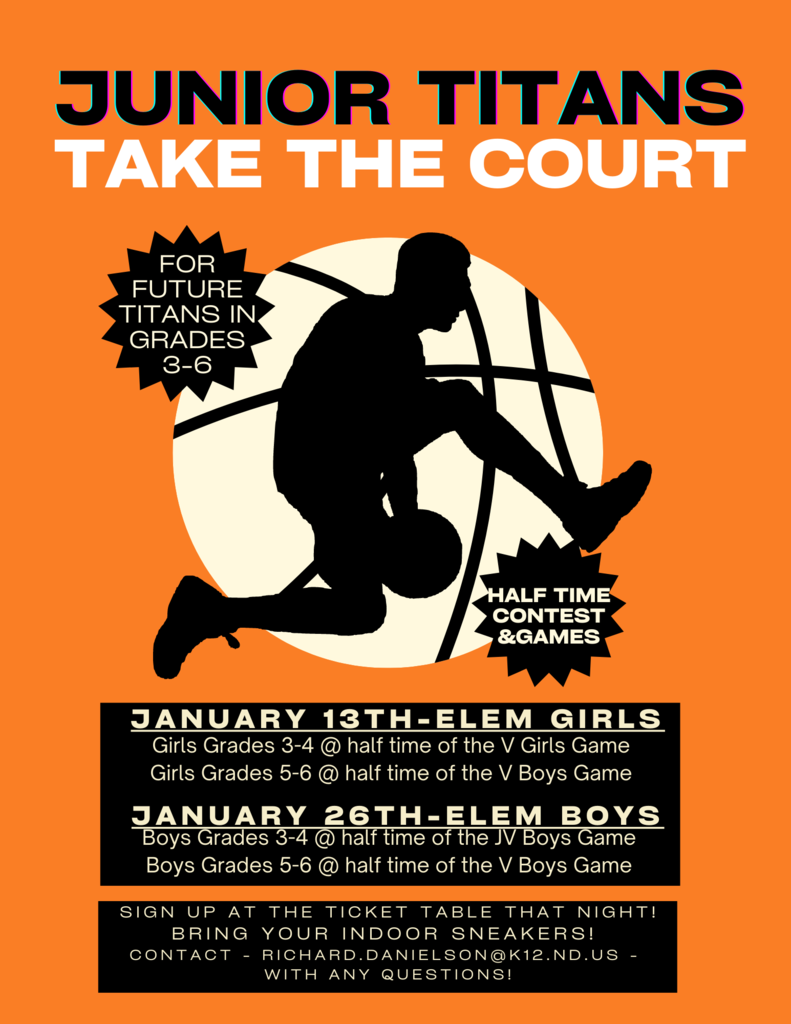 JH GBB - Monday 01/09- JH GBB practice has been moved to GCC Blue.

Griggs County Central School District will be back in-session for PK-12 students on Wednesday, January 4. We look forward to everyone returning from Christmas break tomorrow!