The October 6th C,JV,V Volleyball contests are in Hatton. Bus will leave GCC at 3:30pm

Dear Junior Titans Parents: Things are going great! The Junior Titans and the XC team are having fun running and playing games together. As you know this program is almost done, there is a race day left. It is on Thursday, October 6th at approximately 3:30pm at the Cooperstown Bible Camp. The Junior Titans will be released from school at 2:30 and bussed to the camp, so they can warm up for their race. They will run approximately 1 mile with the boys and girls running together. If the racer finishes the race, he or she will receive a cookie. The Junior Titans get to keep the shirt they race in. Come out and cheer for your child! Please remind your child to dress for the weather, it's suppose to be cool on Thursday.

Reminder that tonight is the K-12 Fall Concert at GCC starting at 7:00pm. Students should arrive 15 minutes prior to the concert and meet in Mr. Rosin's music room. See you all tonight!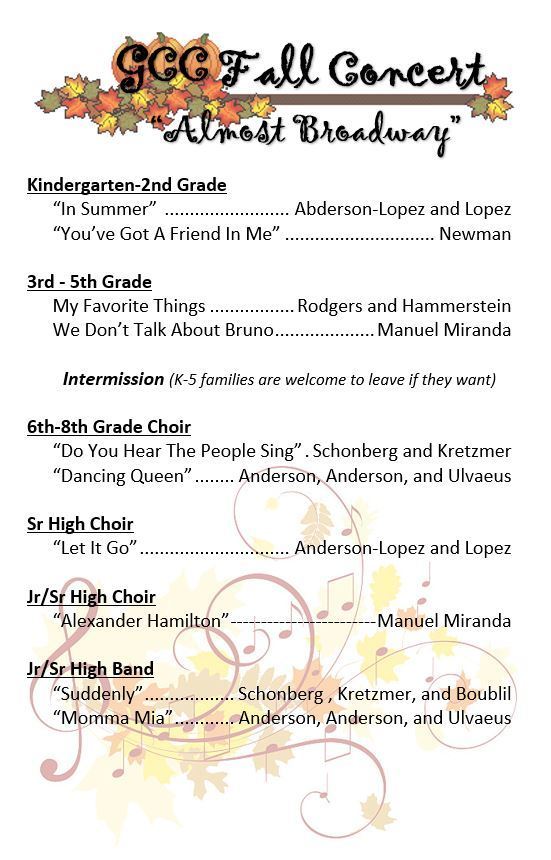 The bracket for the Varsity Volleyball Tournament at Carrington High School on Saturday, 10/8 is attached. The Titans will take on Jamestown JV at 8:00am, Rugby at 9:30am, and Medina/P-B at 11:00am in the East Gym-North Side.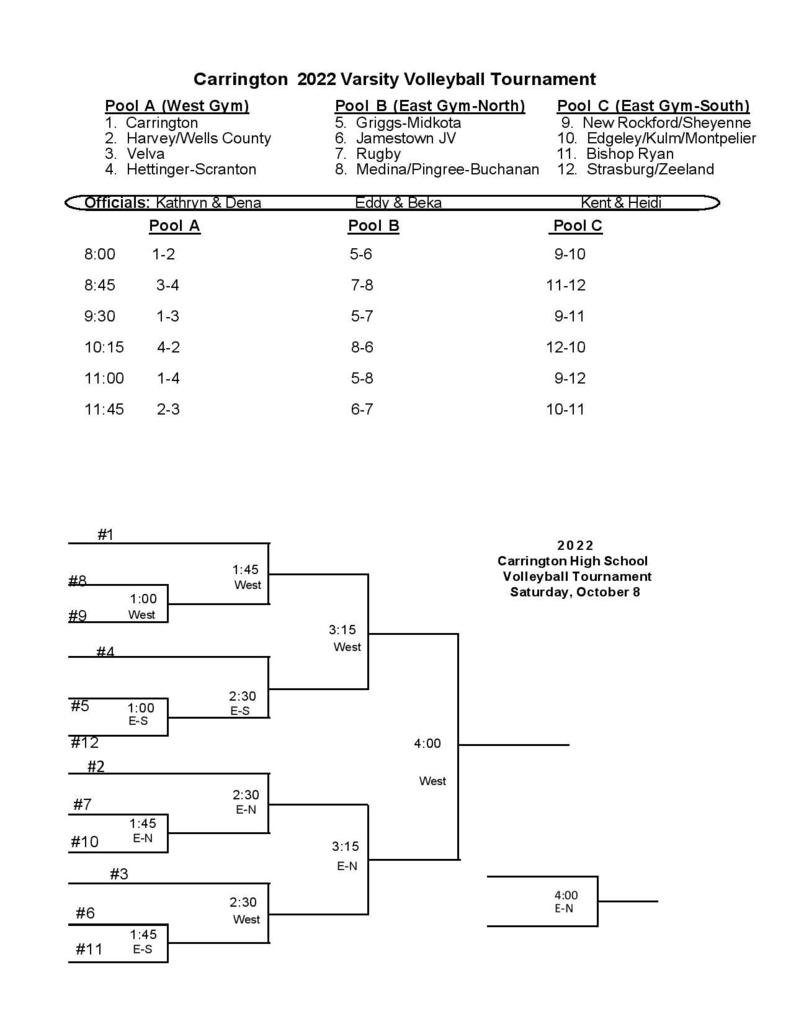 Congratulations to the September Students of the Month!

Reminder that our next Reading Every Day (RED) event is tomorrow, September 30th from 2:30-2:50pm. Students are free to leave with their parents at the conclusion of our RED event. We are so excited to see you here!


Thank you to the Hannaford Conservation & Wildlife Club for their support in purchasing fishing pole kits for Mrs. Harris's Wildlife & Natural Resource class!

Stay up to date on Titan Activities by accessing our Activity page.
https://as3.rschooltoday.com/public/genie/1483/school/2/
There you can find the most up-to-date game and practice schedules, leave times, radio and streaming links, and other important, game-specific information! Good look to our Football team tonight at the homecoming game vs Hatton/Northwood! Streaming info can be found at the link above!

Due to the homecoming pep rally today, September 23rd, practice times today are adjusted as follows: -9-12 VB at GCC - 3-4:45pm -7-8 VB at MHS - 3:30-5:15pm -7-8 FB at GCC - 3-4:45pm

Permission forms for Junior Titans Cross County were sent home with your 4th, 5th, & 6th grade students today. Activities will begin Wednesday, Sept 28th from 3:00-5:00pm in Room #118. Then will be on Fri 9/30, Tue 10/3. Race day will be Thursday 10/6 at CBC. Cookie and free T-shirt for all participants. Please return permission form with T-shirt size by 9/28.

There has been an update to the JH VB Tourney schedule for this Saturday, 9/24. New Schedule attached and adjusted leave times below: JV to Langdon leave times: -Leave GCC @7am, MHS @7am -Arrive 9am, 1st game 9:40am JH to New Rockford leave times: -GCC @7am, MHS @7:30am -Arrive 8:10am, 1st game 8:30am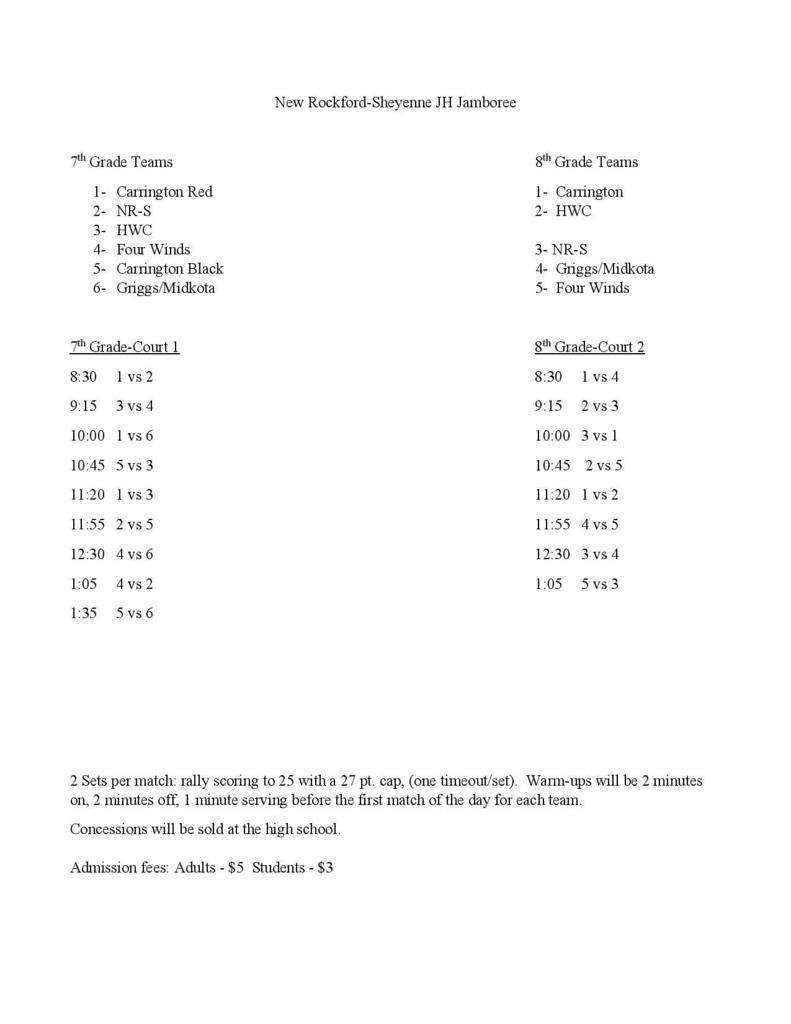 Congratulations to Griggs County Central's 2022 Homecoming Court! Members include Gavin Nelson, Garrett Lende, Eli Larson, King Ben Edland, Queen Asia Becherl, Molly Johnson, Olivia Larson, Piper Suhr, Prince Owen Heinz and Princess Lennyn Flatt.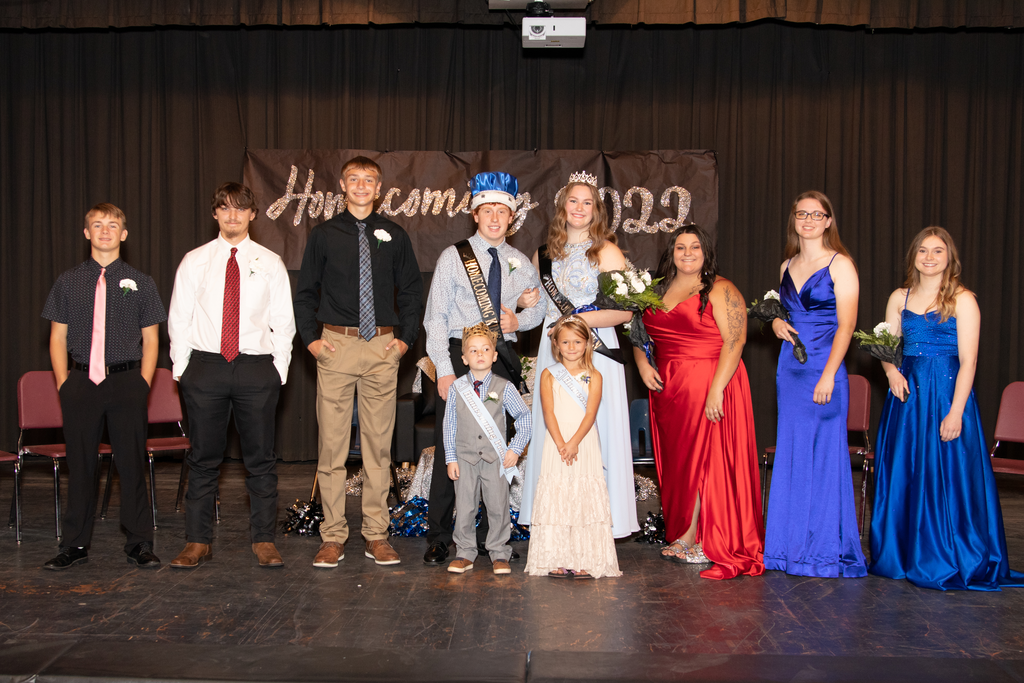 It's tournament weekend for volleyball this Saturday, September 17th! Schedules for our Varsity Volleyball at the Optimist Tournament in Valley City and JV/C Volleyball at the New Rockford Tournament are here!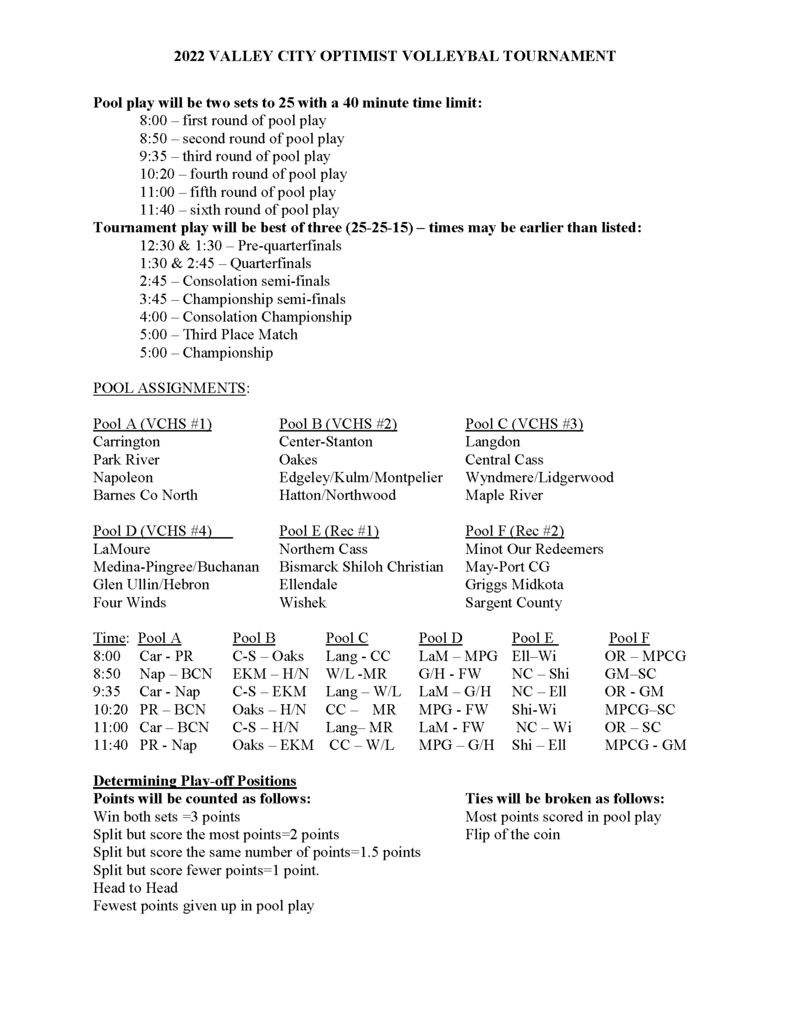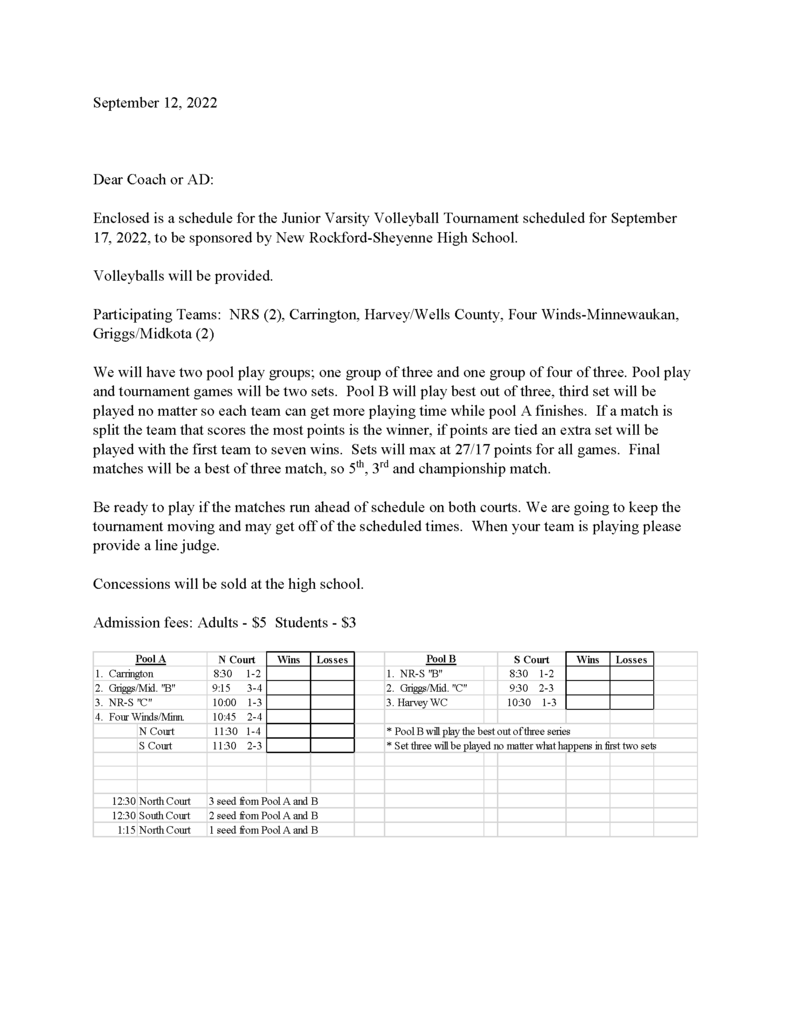 There have been some changes to tomorrow's September 13th volleyball line-up vs BCN. 7th grade will begin at 5:00 pm followed by C squad and Varsity. 8th grade and JV volleyball will practice in the GCC Blue Gym.

Also on Saturday, 9/10 the 6th Grade Girls basketball team will travel to Northwood for a Jamboree. The girls will take on Hillsboro in the first game at 9:15am in the small gym. They will also play Thompson at 10:45am and Dakota Prairie at 12:15pm in the small gym. Good luck to the JH Volleyball team as they travel to Carrington for a JH Jamboree. See the attached schedule for details.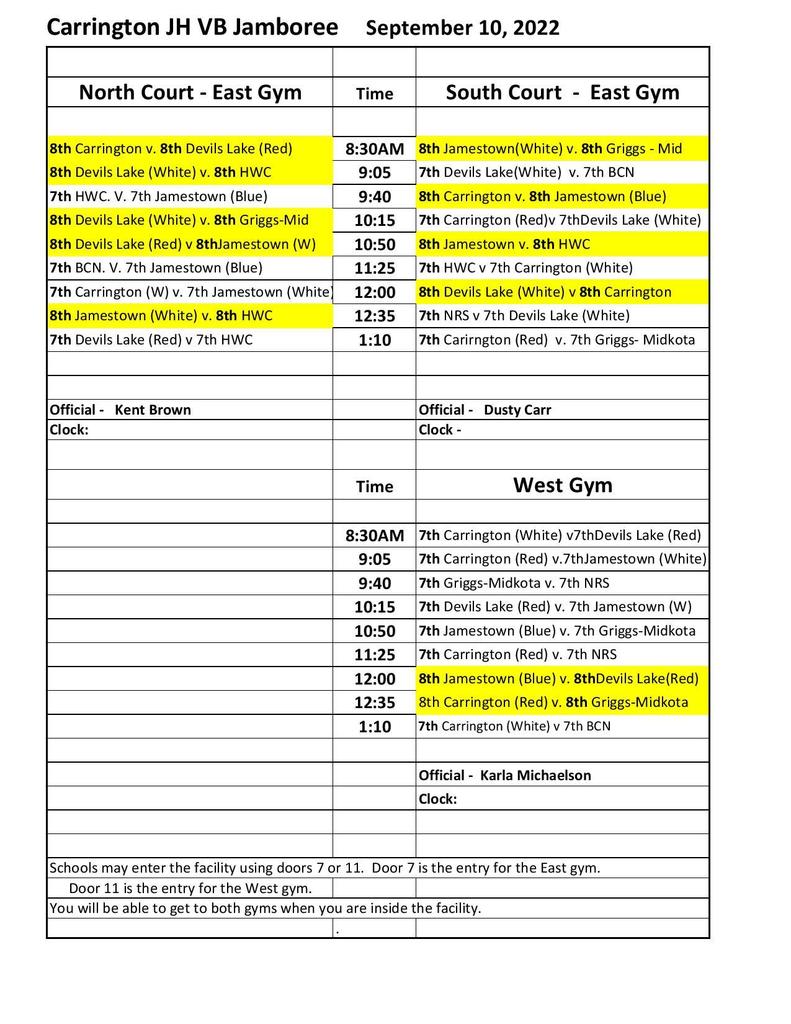 See the image for all of the Homecoming 2022 events!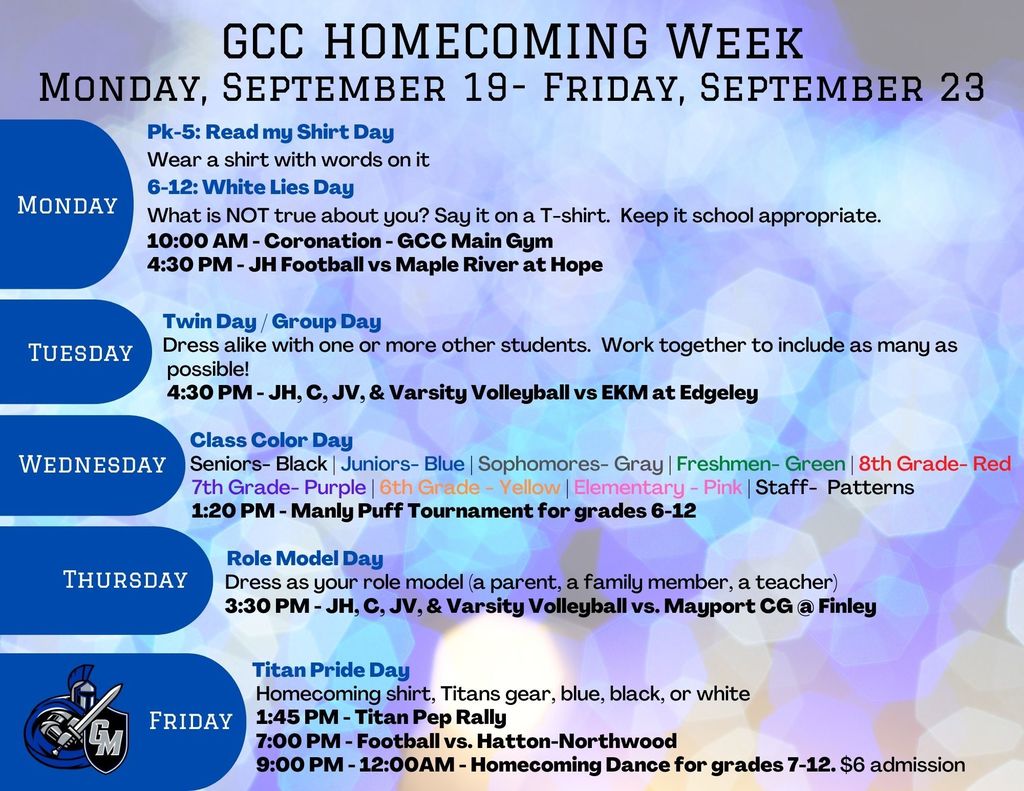 2022 Homecoming T-Shirts order forms are being sent home with students on Friday, Sept. 2. They are due back Friday, Sept. 9.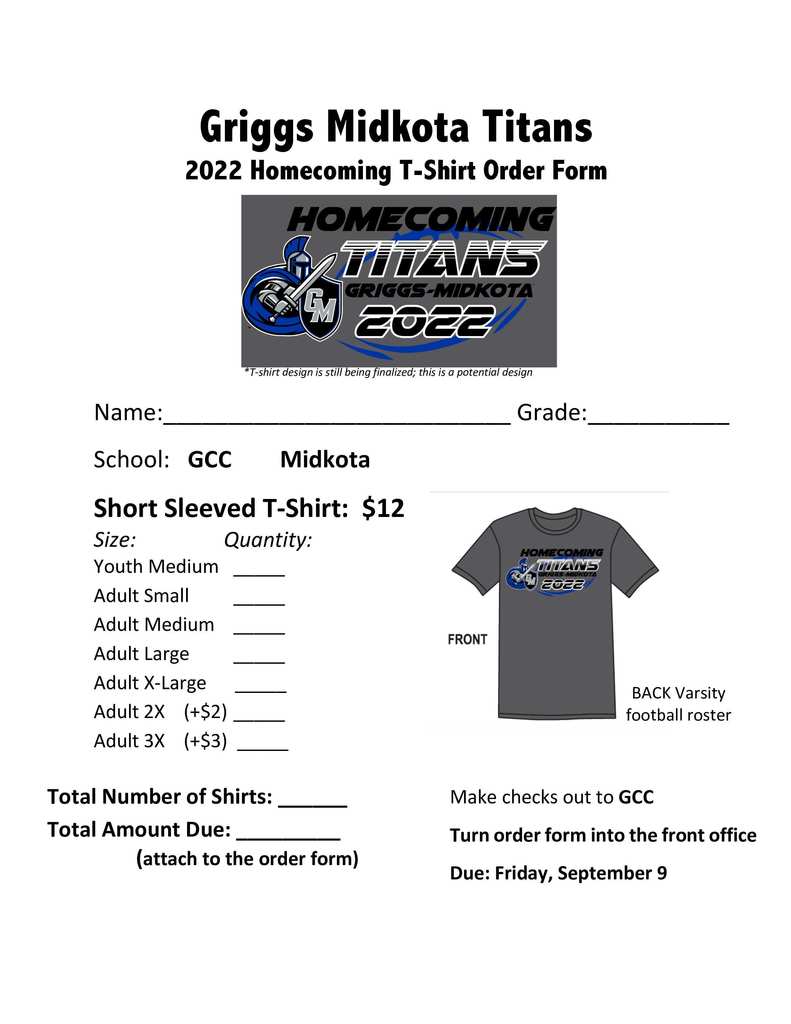 GCC's 2022 Homecoming is September 19-23. Congratulations to the members of the GCC Homecoming Court! Coronation will take place Monday, September, 19 at 10:00 AM in the main gym. See the dress up days sponsored by the GCC Student Council.