Nodak Electric Cooperative is sponsoring an all-expense-paid trip to Washington, D.C. June 18 to 23rd, 2023 for selected high school sophomores or juniors. For details about how to enter the essay contest go to
https://ndyouthtour.com
.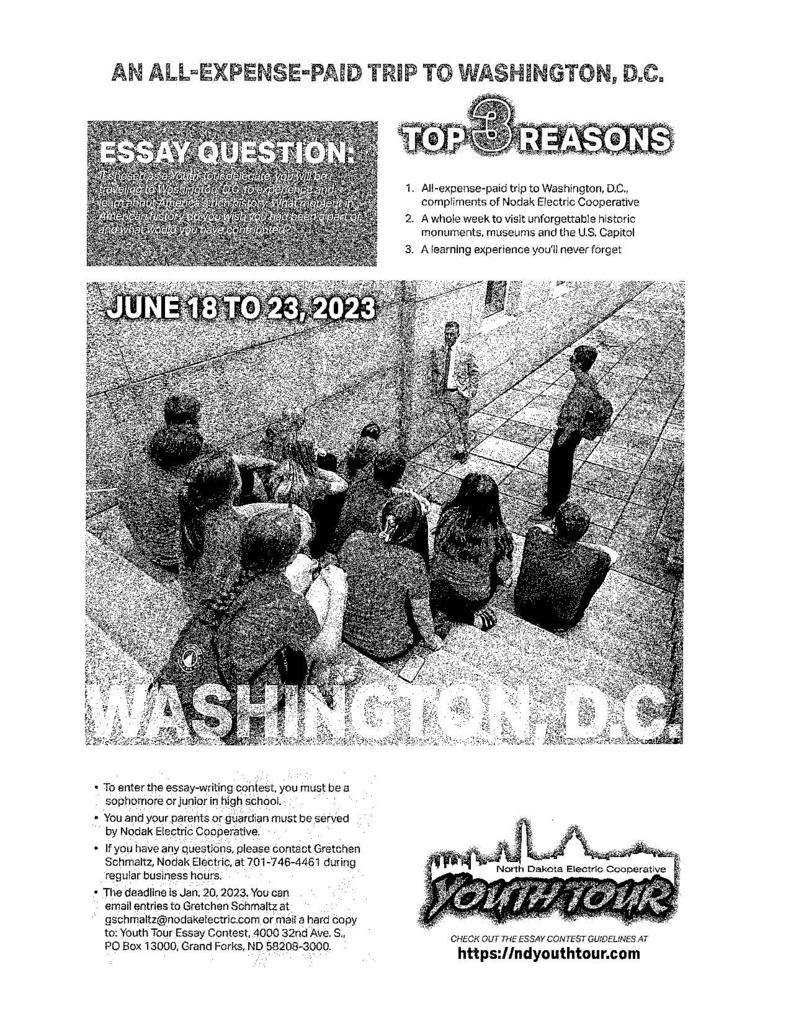 New 4-H Club in Cooperstown GCC students in kindergarten through 12th grade, there is a new 4-H Club being formed! If you are interested in knowing more, contact Blake Wahlhood at (720)-503-5967. A meeting is planned for Sunday, December 3, 2022. Contact Blake for the details!

The National Honor Society invites you to give back this holiday season through their food drive and Socks for Santa. Please send your nonperishable food items and socks to the school to place under the entryway tree. Santa will be at the boys basketball game on Dec. 16 to collect the sock donations.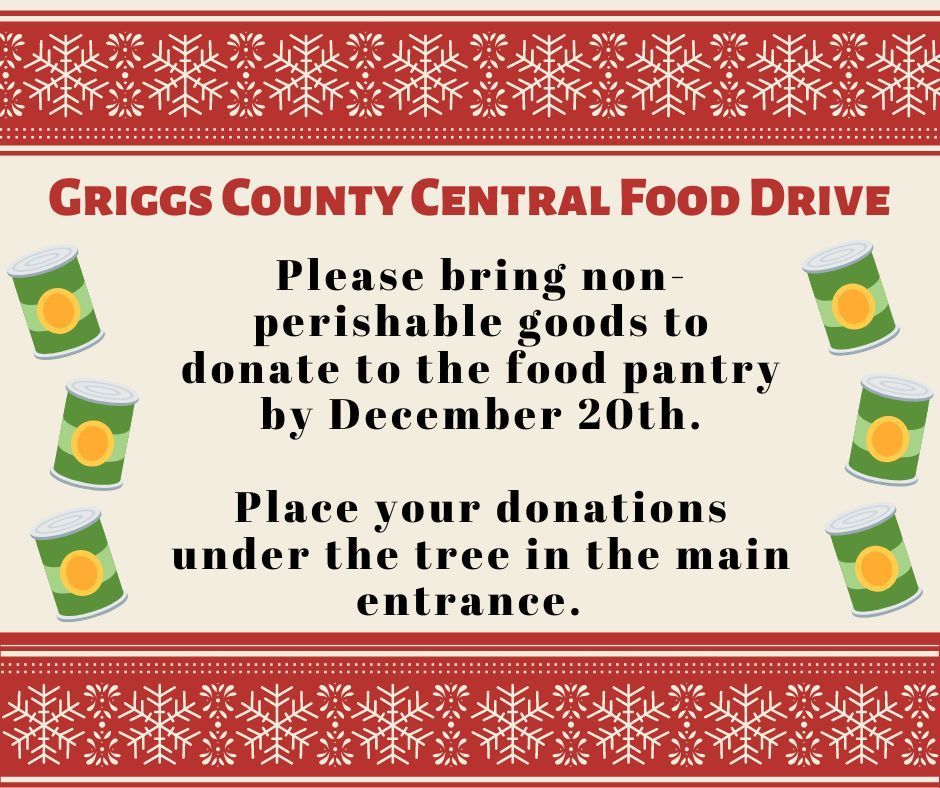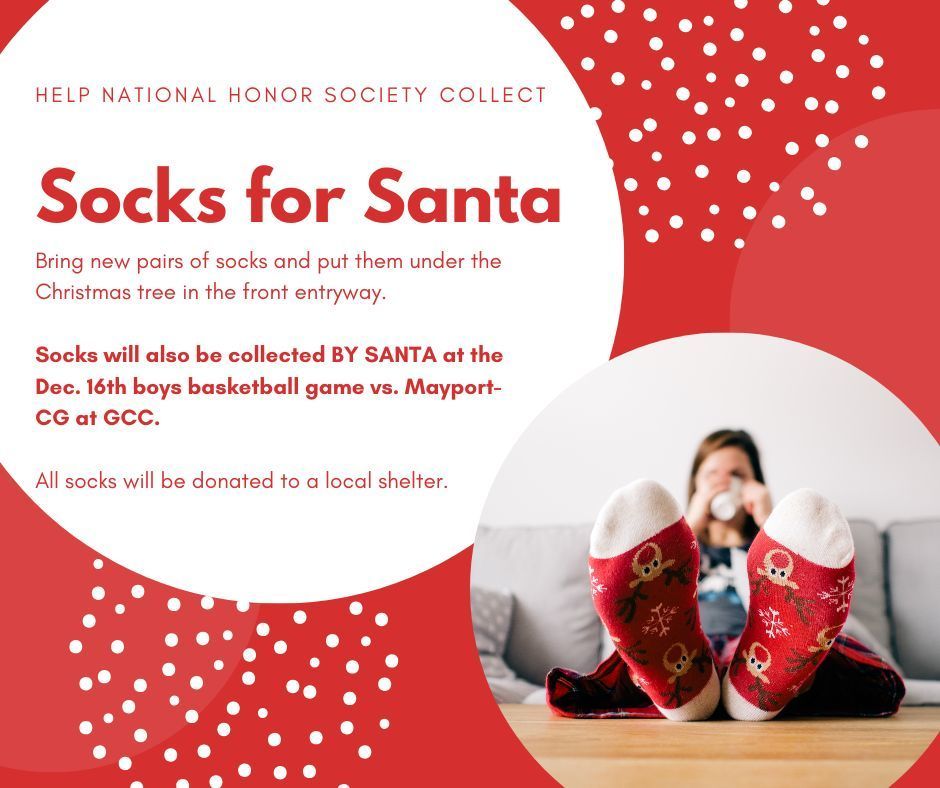 The Nov 29th JH GBB games @ GCC are rescheduled to Tuesday, December 13th @ Valley City with 7th grade starting at 4:30 and 8th grade to follow! It will be at VC North Gym. JH girls will practice @ MES on Nov 29th. You can stay updated with all winter schedules by accessing our Activity Schedule Site -
https://as3.rschooltoday.com/public/genie/1483/school/2/

Reminder to join us for the monthly RED event today, Friday 11/18 from 2:30-2:50pm.

Basketball related reminders: -Boys' Basketball parent meeting tonight, Nov 17th, at 6pm at GCC. -JH GBB pictures are tomorrow, Friday, Nov 18th at 3pm and HS GBB pictures are Tuesday, Nov 22nd, at 3pm.

Reminder to come out for the Sophomore Spaghetti Supper and One Act Play Performance of Good Cop Bad Cop tonight, 11/15. Supper will be served from 4:30-7:00pm. Tickets available at the door for $7 Adults, $6 7-12th grades, $4 K-6th grades, Free for preschool & under. Delivery available for $1, free for 65+. Call 797-3114 to order delivery. The play will begin at 7:30pm. Tickets available at the door for $5 adults and $3 students, preschool & under free. Let someone else do the cooking tonight and support the class of 2025!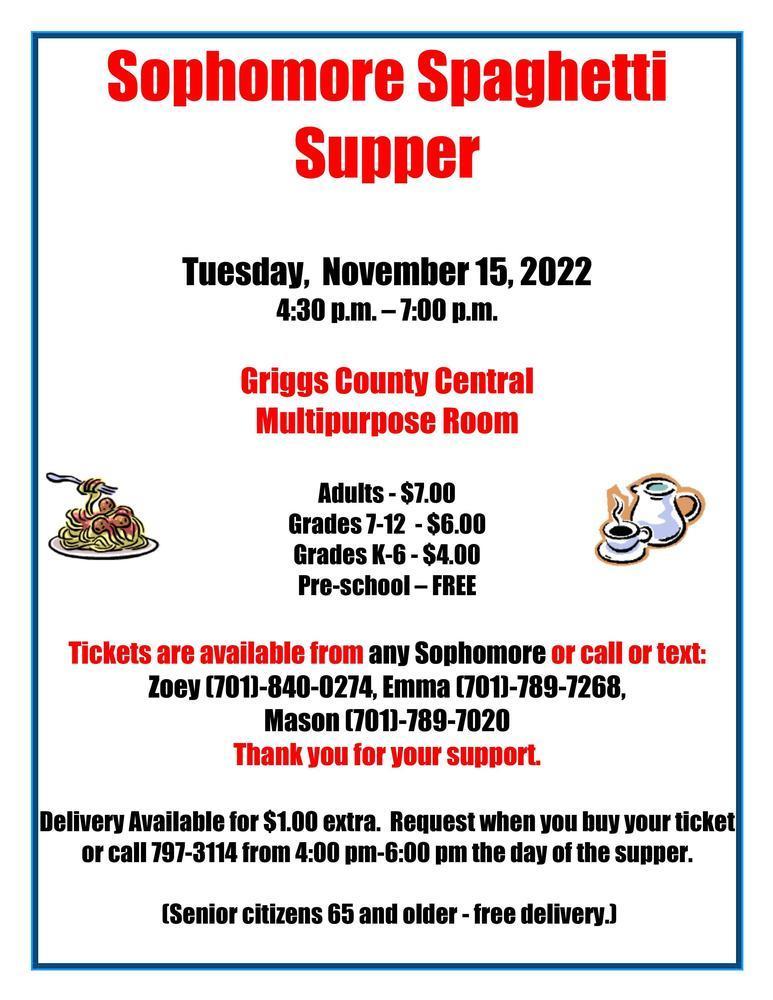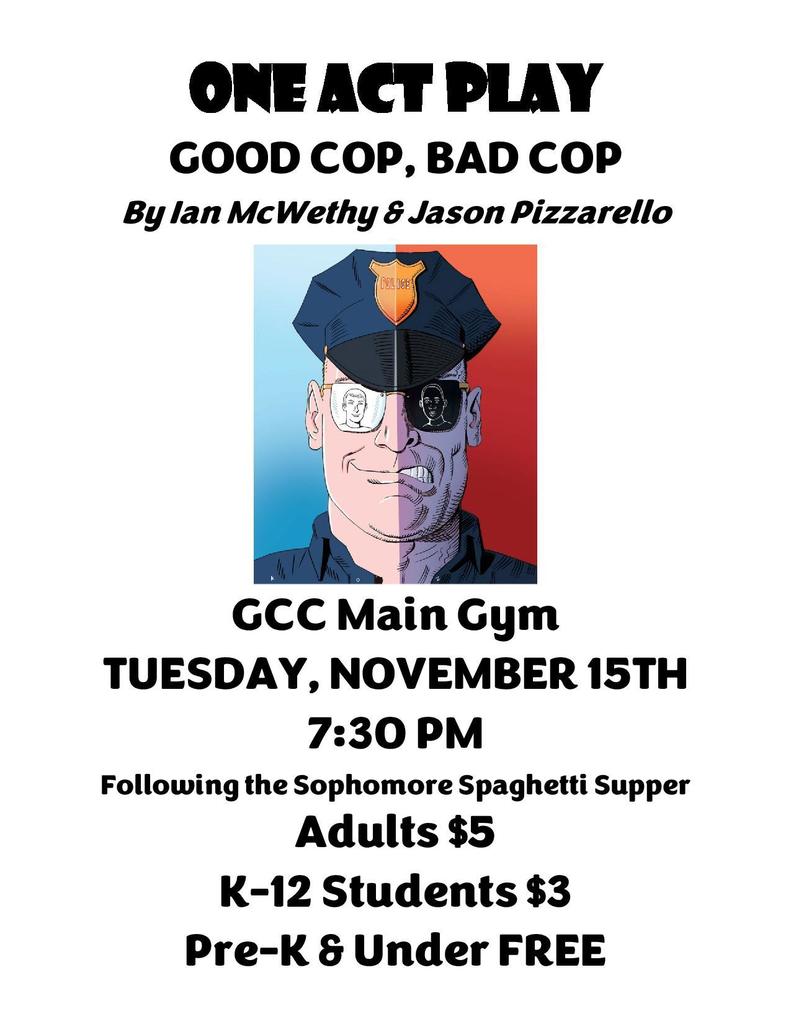 Reminder that 7-12 Boys' Basketball begins Monday, November 28th. For any athletes who did not participate in a fall sport, please be sure you have all of your forms submitted to the school office. The Coaches will have a 7-12th grade boys parent/athlete meeting at 6pm on Thursday, November 17th in the blue gym.

Reminder that 7-12 Girls' Basketball begins Monday, November 14th. For any athletes who did not participate in a fall sport, please be sure you have all of your forms submitted to the school office. The parent/athlete meeting scheduled for Nov 10th has been rescheduled to Nov. 14th at 6pm following practice.

The Veteran's Day Program scheduled for tomorrow, Friday Nov 11th at GCC has been cancelled due to the weather.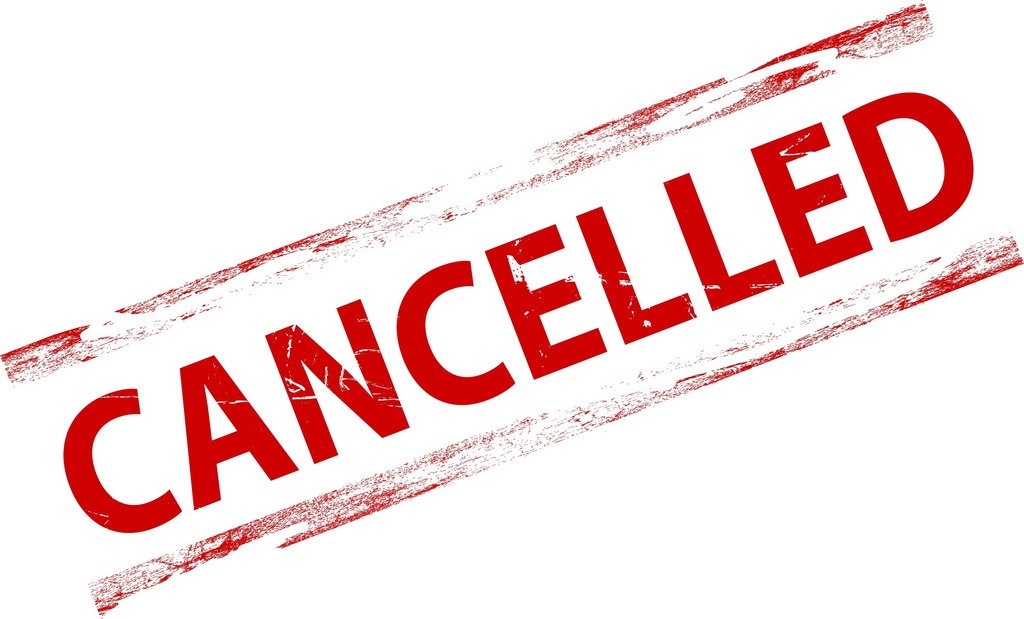 There will be no school or activities on Thursday, November 10 due to the weather and, as a reminder, there is no school on Friday, November 11 to observe Veterans Day. Have a good long weekend and stay safe!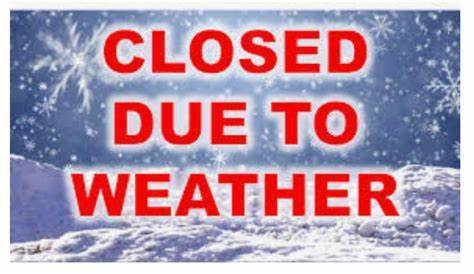 Congratulations to Briley, Max and Levi on their Superior Actor Awards at Regional One Act today! Also congrats to Kelsey & Jetta for their honorable mentions! They took 3rd place overall. Be sure to come see the performance on Tuesday, Nov 15th at 7:30 following the Sophomore Spaghetti Supper. It will be an extended version of today's performance.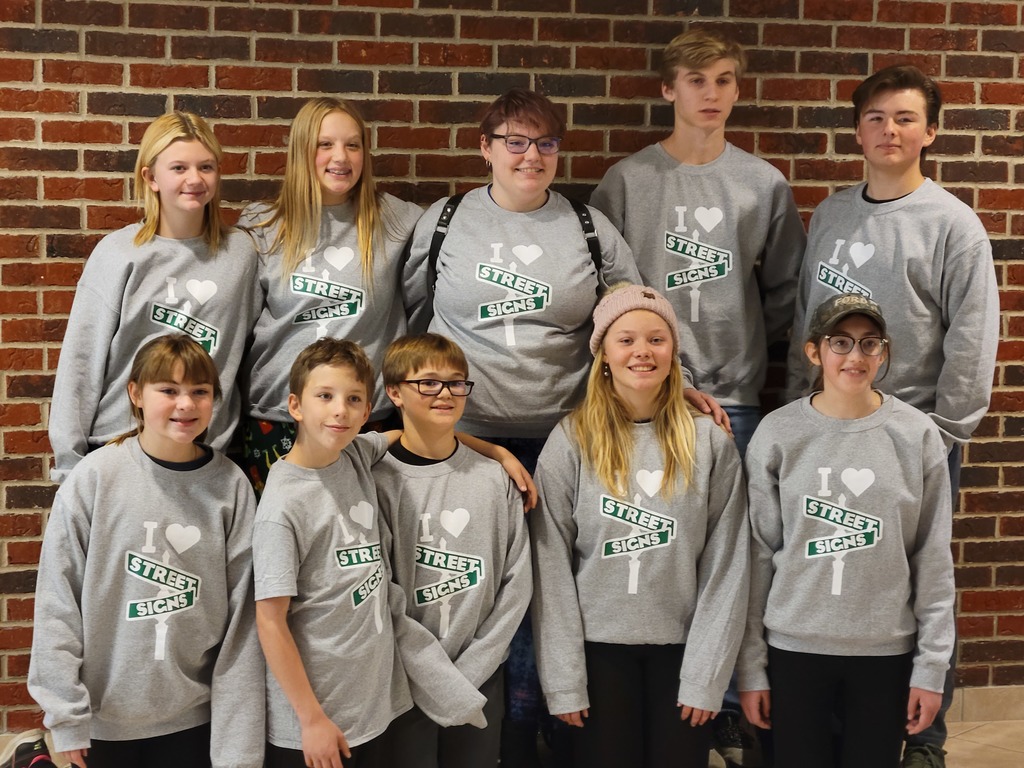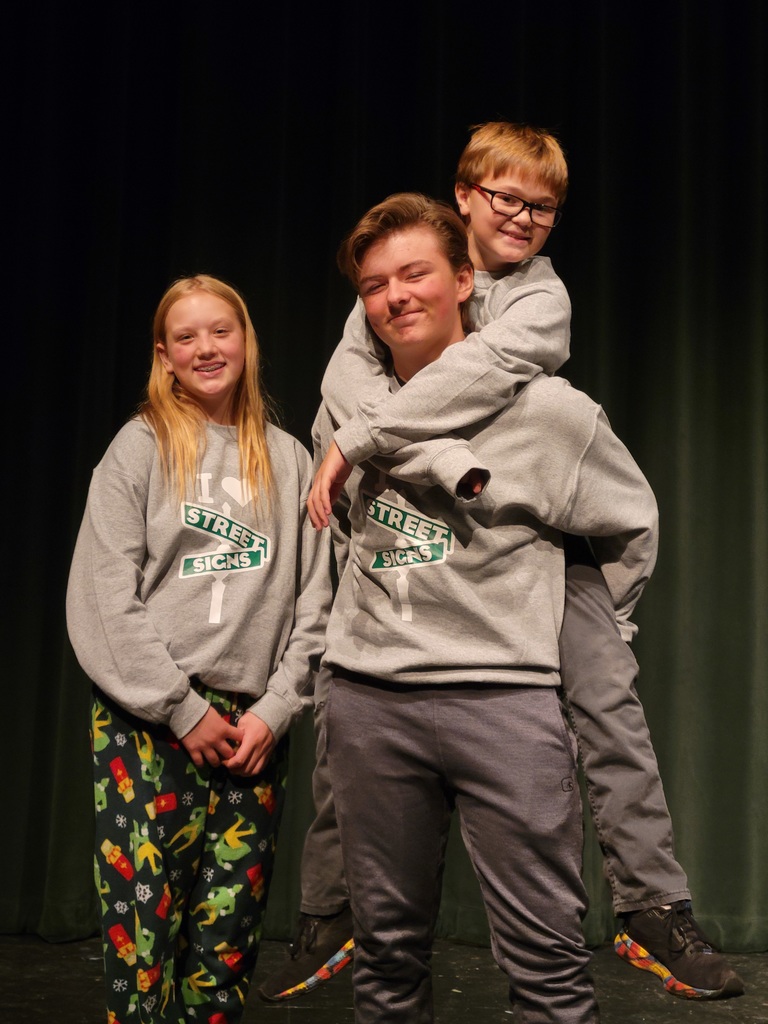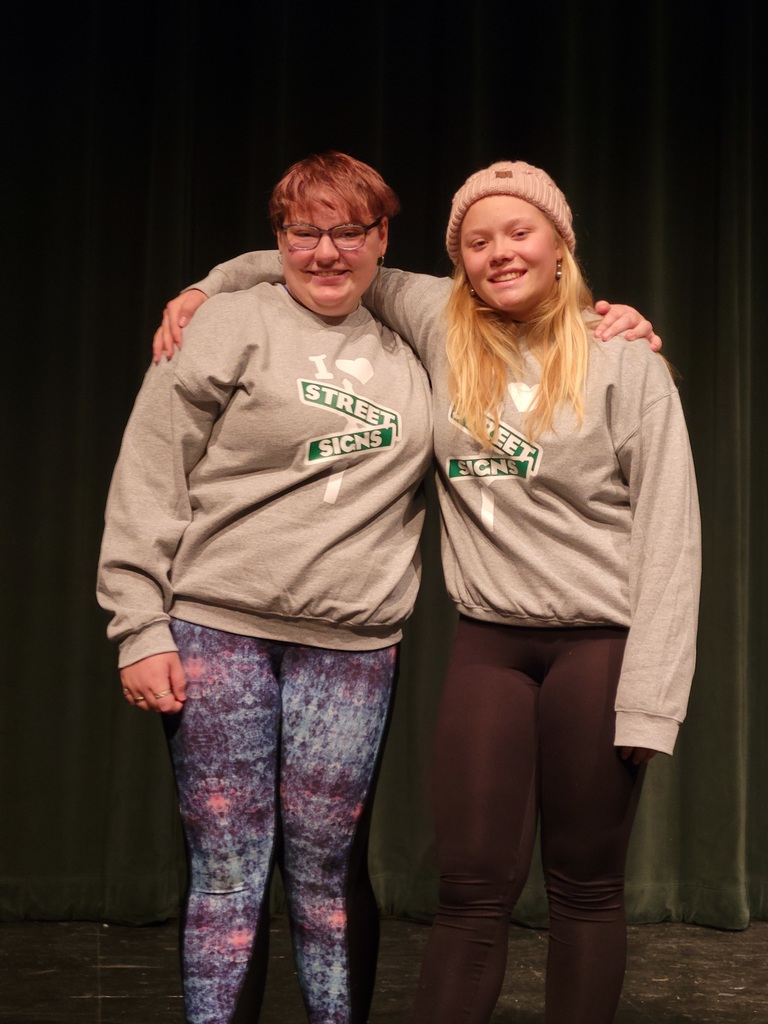 There will be a Preseason Athlete/Parent meeting for 7-12 girls basketball on Thursday November 10th @ 6 pm at the GCC High School.

Today is our fall parent-teacher conferences from 3:30-8:30pm. Sixth - Twelveth grade Teachers will be available at tables in the blue gym and main gym. Pick up your students' midterm progress report from the main office as well as MAP testing results for students in grade 6, 7, and 8. In addition to conferences, there are two informational meetings happening: -Agriculture in the Dominican Republic at 6 PM in Mrs. Harris's Agriculture Room for any parents of students interested in hearing more about a travel experience to the Dominican Republic in Summer 2024. An invitation was sent to parents of interested students. Please RSVP. -Baseball and Softball Information and Interest Meeting at 7pm in Mrs. Mehus's Science Room for any parents of students in grades 6-12 who are interested in hearing more about the potential for an independent GCC baseball and softball program. Conferences for Preschool - Fifth grades will take place in their classrooms. Sign-ups were sent out to families.


Congratulations to the October Students of the Month!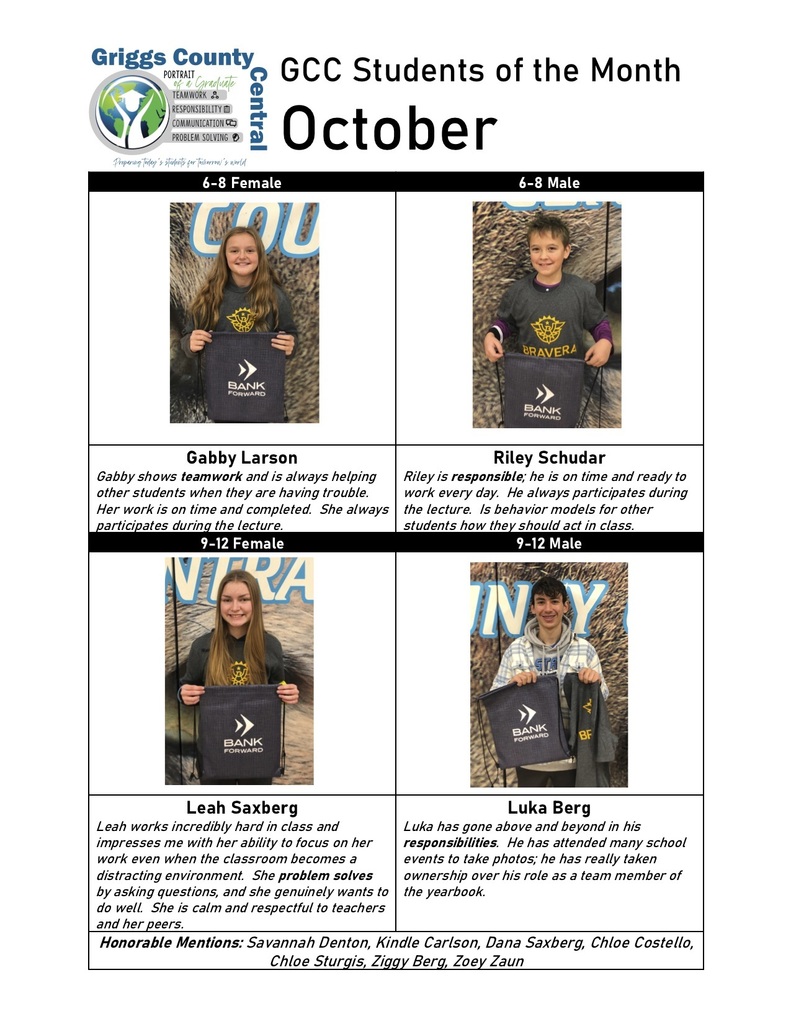 The 7th grade volleyball game today, October 24th, vs New Rockford-Sheyenne at GCC will begin at 3:30pm.

The G-M Titan Volleyball Team will kick-off the District 5 Tournament at BCN on Thursday, October 27th. Our girls will play the last game of the evening versus Carrington. GO TITANS!!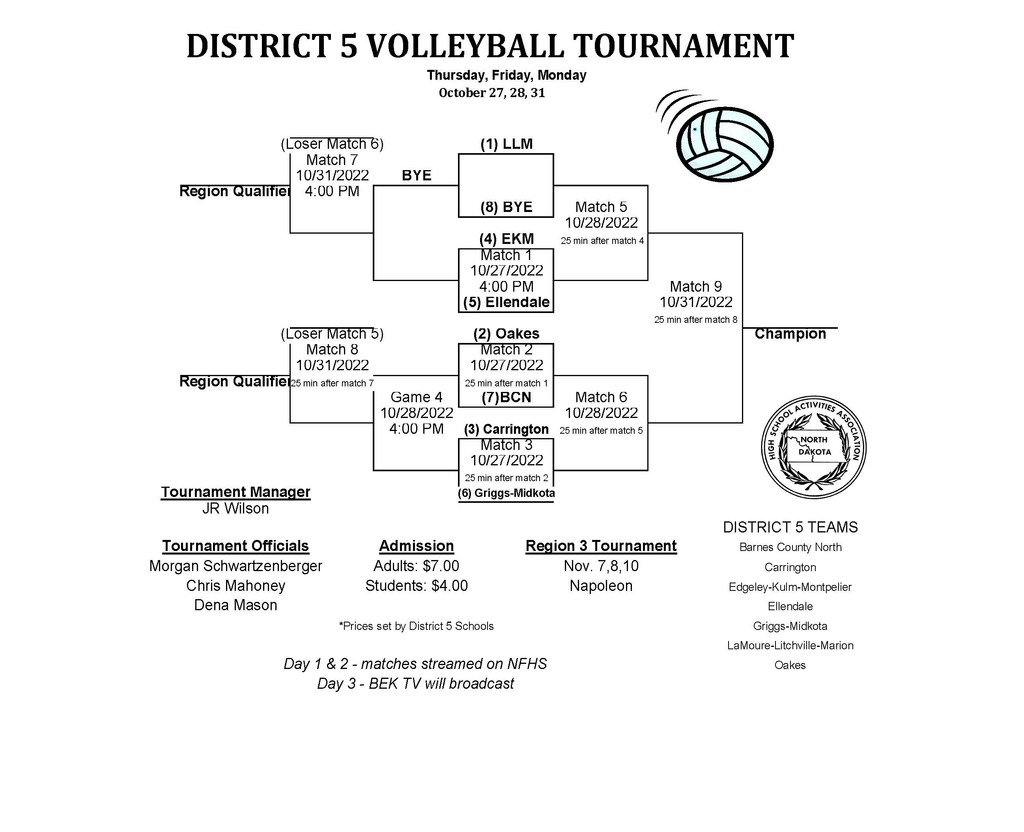 Reminder that Parent Night/Senior Night for the sports of Volleyball, Cross Country, and Girls' Golf will be Monday, October 24th, at GCC following the JV volleyball game. We will acknowledge athletes that competed at the C, JV, or V levels during the season.