See the image for all of the Homecoming 2022 events!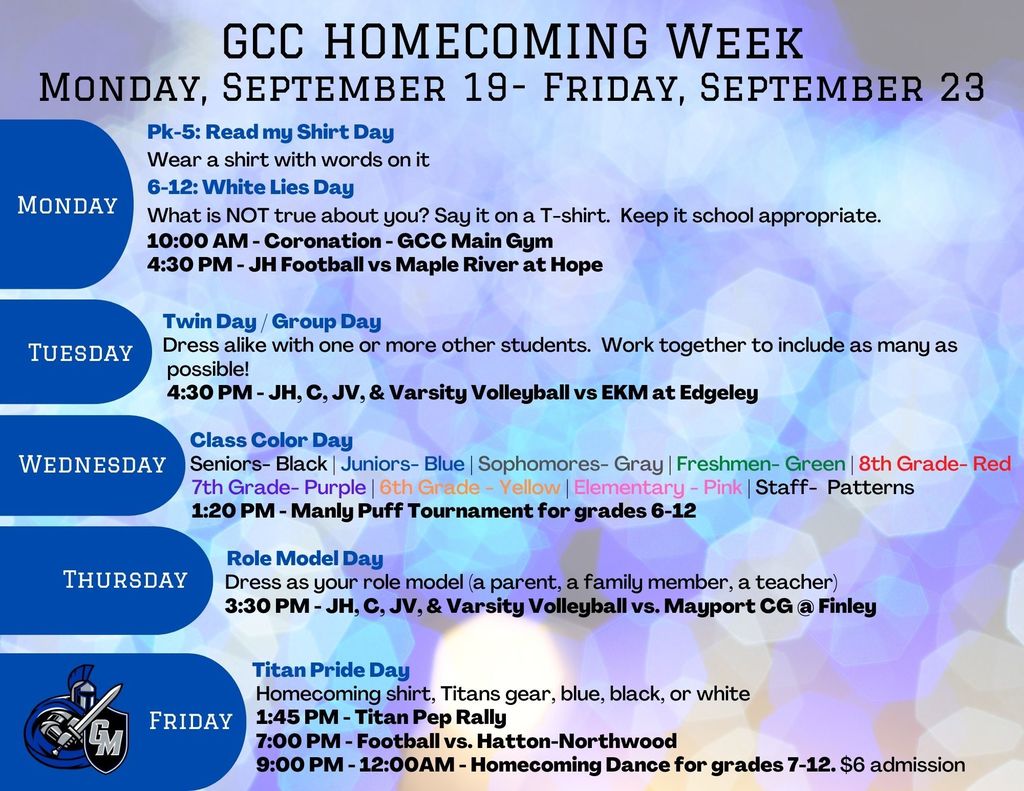 2022 Homecoming T-Shirts order forms are being sent home with students on Friday, Sept. 2. They are due back Friday, Sept. 9.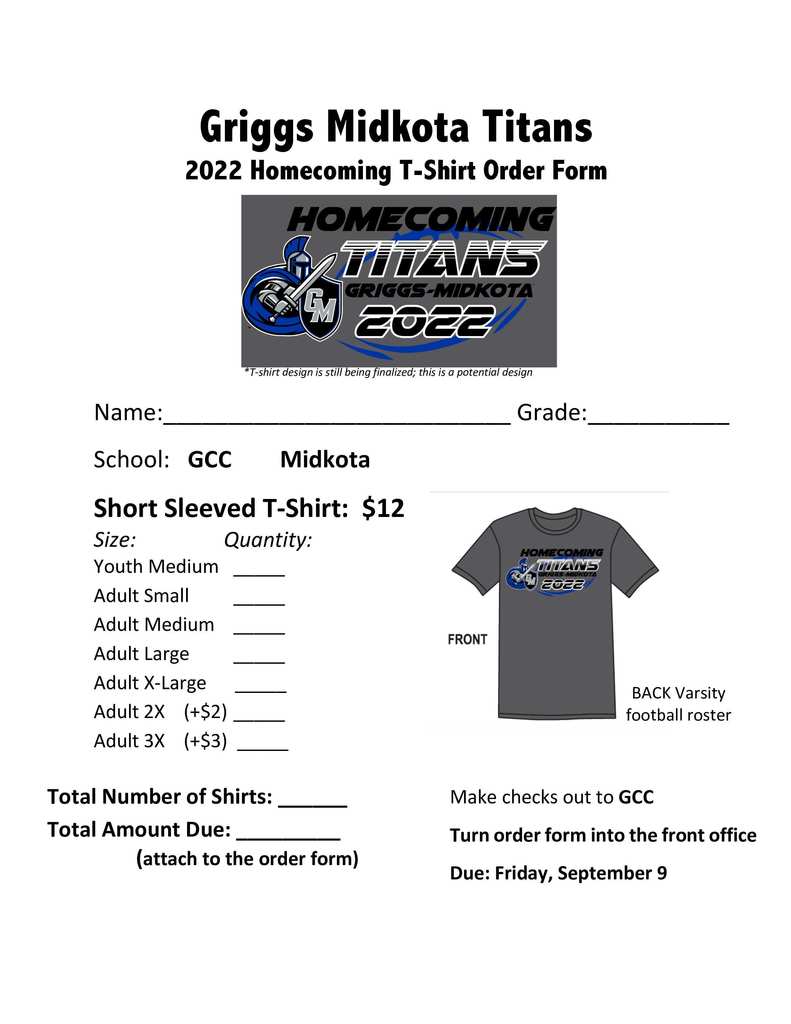 GCC's 2022 Homecoming is September 19-23. Congratulations to the members of the GCC Homecoming Court! Coronation will take place Monday, September, 19 at 10:00 AM in the main gym. See the dress up days sponsored by the GCC Student Council.


Reading Every Day (RED) is an educational program encouraging families to read to their child every day. The benefits of reading 20 minutes a day really make an impact on the child's education. The mission of RED is to engage families in literacy development and inspire children to discover the pleasure of reading so that reading will create a lifelong habit. This year, the GCC elementary school will host monthly elementary RED events that welcome adults of our students into the school for the last twenty minutes of the school day once a month. Moms, dads, aunts, uncles, grandpas, grandmas, older siblings, other important adults in your child's life are welcome to come and enjoy the gift of reading with your student(s). Have more than one student at our school, no problem! Older students will be dismissed to younger students' rooms prior to the start of the event so all your children will be in one spot for you! Our first RED event is on August 26th from 2:30-2:50. Students are free to leave with their parents at the conclusion of our RED event. We are so excited to see you here!


School Picture Day is scheduled for this Friday, August 26th. Picture Day Forms were sent home with students last week. Be sure to send your order forms back with your students on Picture Day! Additional Forms are available at the school or on this post. Also, you may pay online by going to
www.caulfieldstudiogf.orderschoolpix.com
and use password Prepay. Print the preorder receipt & enclose in complete order envelope and turn into the photographer on Picture Day. Late orders are subject to additional fees.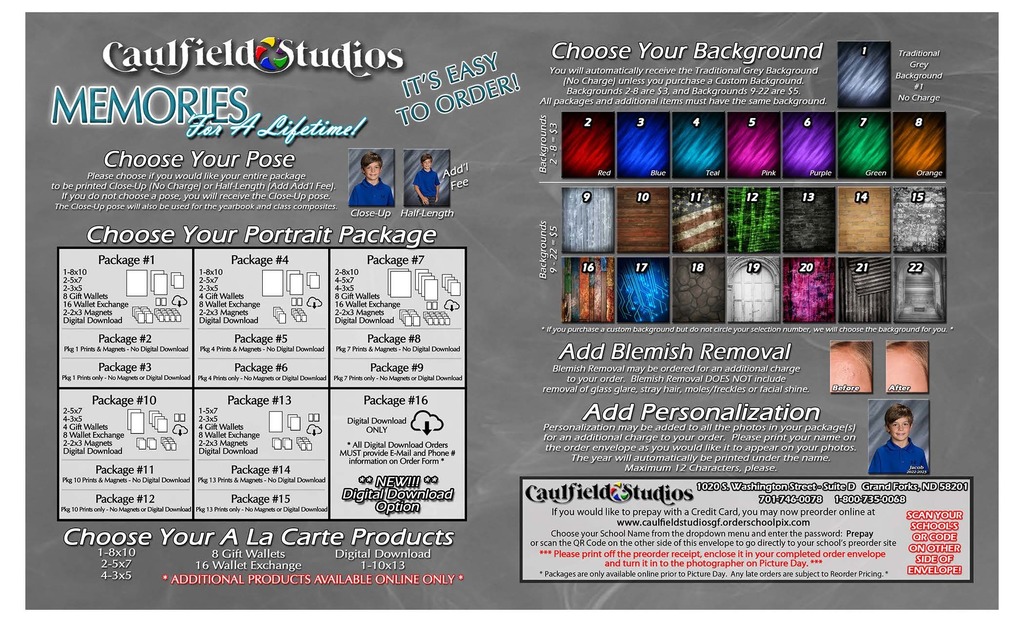 Elementary Girls' Basketball practice will be at Cornerstone Church from 3:30-5:00pm today due to volleyball team pictures at GCC. Transportation will be provided to practice. Parents can pick up their child after practice from Cornerstone at 5:00pm.

7-12 Volleyball Team Pictures are Monday, August 22nd, at GCC School. 7-12 volleyball will practice at GCC on 8/22. Order forms will be given out at practice.


The girls' golf meet scheduled for tomorrow, August 19th, at Hillsboro is postponed.

The Proactive Athlete and Coaching presentations will be available for showing at 7pm tonight, August 15th. If you were unable to attend the 7-12 Titan Sports Kick-off Presentations, please make arrangements to view them before your child's first competition. The videos will be played in the following locations tonight: -athletes (Conference Room) -guardians (Library Collaboration Room)

Fall Sports pictures have been scheduled during practices as follows. -Girls' Golf, Football, Cross Country - August 16th at 7:30am -Volleyball - August 22nd at 3:45pm Order forms are available at this link (
https://5il.co/1fx3w
) and hard copies will be sent home with athletes. Please remember your uniform on picture day!


Elementary Girls' Basketball starts August 22nd!! Please find the Welcome Letter and Game/Practice Schedule here:
https://tinyurl.com/4ve7uhk9
.

Sports Kick-Off Event Information: The following link contains a schedule for the evening of August 2nd –
https://5il.co/1f7o8
-The event is mandatory for 7-12 athletes and guardians. We are happy to announce that the GCC Post-Prom group is sponsoring a hotdog plate meal from 5:00pm-5:30pm before our Kick-Off Event! Free-will offerings are accepted to support our post prom activities.

The G-M Titans look forward to seeing you at our Sports Kick-Off Event on August 2nd from 5:30pm-8:00pm at the GCC school!! Following are important items as the sports seasons approach: -Link to required athletic documentation (
https://tinyurl.com/3eutnujt
) -We will have copies at the Kick-Off Event or you can print them and bring them filled out. -Link to an August practice schedule (
https://5il.co/1f3p9
) -Note specific activity start dates -Subject to change

The G-M Titans are accepting applications for the following activity positions: -Assistant Girls' Basketball -Junior High Girls' Basketball -Junior High Boys' Basketball Applications available at
https://5il.co/18gql

Reminder of our Sports Kick-off Event: Mark your calendar for the evening of August 2nd, from 5:30pm-8:00pm at GCC, for the G-M Athletics kick-off event. We are bringing in Mike Morgan, a veteran coach, AD, and speaker with Proactive Coaching LLC, to present to parents, athletes, and coaches. This is a must-see event and is open to all parents, students, and community members! Attendance on August 2nd is mandatory for 7-12 athletes and their guardians. Proactive Coaching works with coaches, teams and leaders of industry to help intentionally create character-based team cultures, provide a blueprint for team leadership, develop confident, tough-minded, fearless competitors, and train leaders for excellence and significance. There is no better way to set up Griggs-Midkota for a year of excellence!!

Griggs County Central will conduct concussion baseline testing on the following dates and times at GCC school: -Wednesday, July 27th from 7:30am-10:ooam -Thursday, July 28th from 7:30am-10:ooam -Tuesday, August 2nd from 3:00pm-5:00pm -Wednesday, August 3rd from 1:00pm-4:00pm *Baseline tests are required to be completed before starting practice and should be taken every other year starting in 5th grade.